There are many kinds of soldiers in the war on the coronavirus.  Lots of them aren't physicians, nurses, medical technicians, or other caregivers, or scientists, for that matter.  Some of them are chamber executives.  The chamber militias plug holes here and there in missing government services, troubled small businesses, and shortfalls of equipment for the caregivers.  Chambers aren't always visible on the front lines, but often they are there, busy in the woods.  They don't do everything, by any means, but sometimes you can find their footprints.  The next time you see a Covid-19 testing tent, or hand sanitizer on a shelf, or a face shield, ask yourself, "I wonder how it got there?"
"You Have Five Minutes"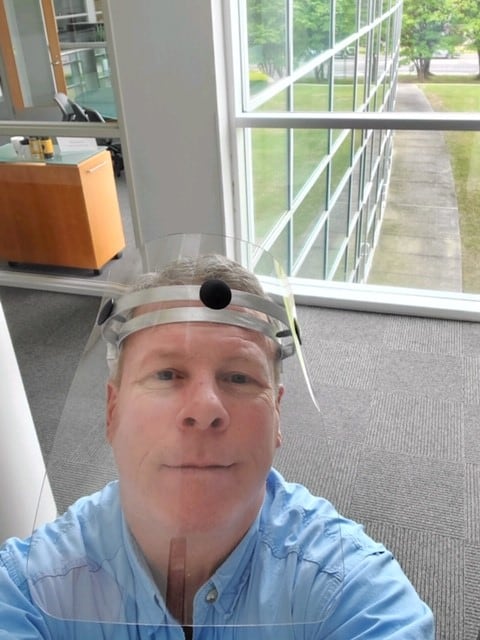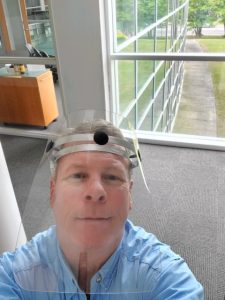 "You have five minutes to make a decision," the voice on the cell phone told Jay Chesshir, president and CEO of the Little Rock Regional Chamber.  Otherwise, the 542 sheets of hard plastic that Chesshir wanted would go to someone else.
At eight face shields to the sheet, that stack of plastic would make it possible to generate 4,336 shields.  Little Rock needed a minimum of 4,000 face shields to satisfy local demand for the anticipated wave of Covid-19 patients.
Chesshir gulped and called the owner of Sage V Foods, a Colorado resident who had generously offered to underwrite some of the Little Rock efforts to supply local hospitals with personal protective equipment (PPE).
Chesshir by now had just three minutes left.
"So what is the overall cost going to be?"  the Colorado man asked.
"Oh, probably somewhere in the $20,000 to $25,000 range," Chesshir said.  He felt nervous about asking for such a big number.
"If you have confidence, then I'll wire the money.  Buy it," the man said.
And Chesshir did.
Jay Chesshir had become a PPE middleman, a little-known chamber specialty that has never been taught in the U.S. Chamber's Institute of Organization Management classes.  All he was trying to do was save a few lives in his hometown.
Chamber Militias
There are many other Jay Chesshirs sprinkled across the United States – chamber of commerce executives who, in the absence of a national "regular army" in the war against covid-19, have become part of a shifting force of state and local "militia" leaders.  They fight the enemy when and where they can.  Many of them clearly have something of a guerilla warrior's ingenuity and resourcefulness.
Previous to the plastic sheets order, Chesshir had worked with local medical authorities and manufacturers to determine just the right type of face shields that would work for Little Rock hospitals.  The group had found 3-D printers to create the plastic headbands to go with the shields.  The only problem was that one 3-D printer took a full 38 minutes to make a plastic headband.  It would take this side of forever to get 4,000 face shields made at that rate.
So Chesshir, ever the civic entrepreneur, found a chamber member, Patrick Schueck of Lexicon Inc., and asked him what to do.  Schueck suggested that they make the headbands out of aluminum.  Schueck and his team created a prototype.  It worked.
The medical people loved it because the new model was sturdy and could be cleaned and reused over and over again.  It held up the hard plastic shield three inches above the headband, giving caregivers full forehead protection.  The design also avoided the problem of fogging up the lenses of caregivers who wore glasses.   And it weighed almost the same as the plastic headbands that those 3-D printers continued to crank out every 38 minutes.
"I Nearly Swallowed My Tongue"
The chamber executive then asked Schueck what these aluminum headbands would cost.  Chesshir figured it would be two or three dollars each.  "He comes back to me and said it's going to be about $15 a headband.  I nearly swallowed my tongue," Chesshir said.
"Patrick, I don't have that much money.  I don't have that money, but I will."  Chesshir was prepared to go raise the money but it could take some time – and they were only a couple of weeks from the anticipated peak of demand for Covid-19 patients at local hospitals.
Schueck looked at Chesshir, irked.  Schueck's father Tom, a self-made, gruff man but with a heart of gold, and a generous giver to many charities in the community, had recently passed away.
"Jay, what would Tom say?"  Schueck said to Chesshir.  "'[curse word]  Just do it!'"
Schueck was telling Chesshir that if he (Chesshir) couldn't raise enough money for the aluminum headbands, Schueck would come up with the rest.
And that is the story – an abbreviated version anyway – of how the aluminum-clad face shields came to Little Rock.  Six local hospitals are about to receive 500 reusable face shields each.  Another 1,000 aluminum-banded face shields will go to other caregiving organizations.
Chesshir said he enjoyed every minute of this wild ride, although he doesn't expect the chamber will stay in the face-shield business.  It took people in four different states, several different companies, several donors, top medical professionals, and chamber staff to plug this hole in the civic infrastructure.  A year from now, PPE may be provided in an entirely different way.  For the moment, however, Little Rock and its chamber have shown the world a big heart and a brand-new shield, just when the community needed both.
Sailing on a Sea of Chaos
Richard Ellenbogen, president and owner of Allied Converters, "converted" to making disposable plastic face shields after his home city of New Rochelle, N.Y. was hit by Covid-19 like a bomb.  "I called the mayor of New Rochelle and asked him for the name of the contract person at the New Rochelle Hospital," Ellenbogen said.
That's when things became interesting.  Ellenbogen's company, which makes plastic covering for food and other containers, had the technology to make temporary face shields for the hospital.  He learned that the hospital was being quoted a price of 90 cents per disposable shield.
Ellenbogen thought the hospital was about to be taken advantage of by some unscrupulous provider.  He offered the disposable shields for 50 cents each.  Before he knew it, he had an order for about 260,000 face shields.  He probably saved the local hospital system more than $100,000.  And he employed 25 to 30 people in the project who otherwise wouldn't have jobs.
That was only the beginning.  "I've been involved with Business Council for many many years," he said.  He was for example a star player in the green business initiative of the Business Council of Westchester (BCW).  The BCW even helped get him featured in The Wall Street Journal for this.
Intrigued by his work on the shields, the BCW team alerted the local news, Channel 12, to what Allied Converters was doing.  This resulted in invaluable publicity and more demand for his face shields from customers such as nursing homes.  The chamber also reached out to other hospitals and other potential customers on Ellenbogen's behalf, said John Ravitz, COO and EVP of the BCW.
Ellenbogen estimates his company has made 500,000 to 600,000 shields thus far.  Demand has peaked for now, although as the rest of the country experiences some of the Covid-19 emergencies that Greater New York has faced, he may get new customers.  And he's ready for them.  His machine can produce about 100 disposable shields per minute, or 30,000 or 40,000 in one day.  (The Allied Converter machine is not a 3-D printer; 3-D models are used for permanent face shields, not disposable ones.)
Meanwhile, the BCW's CEO, Marsha Gordon, as well as John Ravitz and the rest of the team, continue to champion other companies making the conversion to fight Covid-19.  The chamber has a "heroes" page on its web site that lists firms such as Party Line Rentals, which in normal times rents out party tents and now offers them for Covid-19 testing.
The 20-Minute Dash
Bryan Derreberry, president and CEO of the Charleston (SC) Metro Chamber of Commerce, received a call one day from Josh Sorkin, a member of the chamber's board and of its executive committee.  Sorkin's day job was as vice president of SAIC, a large federal contractor.
"We've got this huge 3-D printer here," Sorkin said.  "Can you connect me?"  Sorkin thought it might be of use in something Covid-19 related, such as making hard face shields.
Derreberry got on the phone with the Medical University of South Carolina and then with Roper St. Francis, also a health-care provider.  It was like magic.  "Within 20 minutes, they were working with each other and with Josh," Derreberry said.  Not long afterward, SAIC was producing reusable face shields with its printer.
"That was exciting to see how it happened so quickly," Derreberry said.  And Josh Sorkin was thrilled that his team could immediately get to working helping out the community on fighting Covid-19. You can read more about their continuing work here.
From Boom to Zoom in Two Months
Like most places, Covid-19 hit Milwaukee hard.  And the chamber has felt the impact.  "It's the most upside-down experience I've had at the chamber in 30 years," said Tim Sheehy, the president and CEO of the Metropolitan Milwaukee Association of Commerce (MMAC).
With 70 CEOs on his board, including the heads of companies with operations in China, there was a sense early on that things weren't right in the world.  Sheehy noticed that some of his board members were bumping elbows instead of shaking hands at his January board meeting.  It was awkward for them, almost a joke.  Then, his March board meeting was entirely online.  "It was the first time in 158 years that we've had a virtual meeting for the board," Sheehy said.
And the economy of this manufacturing-heavy community?  Like so many other places, it went from boom to Zoom in the same two months.
Keeping Track
At the same time, the chamber had to adapt rapidly.  It became a go-between for manufacturers with spare capacity and health-care firms that were short of PPE.
One of the cleverest of MMAC's tactics has been to help set up a spreadsheet showing which of the area's 29 hospitals have less than seven days' supply of key PPE items.  By having this information available, MMAC and the hospitals have been able quickly to improve the PPE situation.
On April 1, when MMAC began tracking the information, not a single one of the 29 hospitals had seven days' worth of gowns, N-95 masks, or paper masks.
As of April 28, the situation was much better:  17 of the 29 hospitals had seven or more days' worth of gowns, 21 had seven or more days' worth of N-95 masks, and 23 had a full supply of paper masks.
"It's improved," Sheehy said.  "It [the tracking system] certainly spurred some of the local manufacturers to produce some of this equipment for them."  And of course the push is on to improve things further in May.
MMAC tracks ventilators, too.  There are 511 ventilators in Southeast Wisconsin, of which 200 are in use.  So it appears, at least for now, that the ventilator situation is all right.  It helps that some ventilator makers have plants in Wisconsin.
Sheehy believes, as do other chamber executives, that Part 2 of the PPE wave will hit as more people go back to work and expect to receive protection for themselves and for customers.  Masks, face shields, sanitizers, and other products will help fight the virus at countless workplaces.
"You Either Have It or You Don't"
The Milwaukee chamber CEO marveled at the change he has seen at the chamber.  "Two or three months ago, we would have been ecstatic if we had 40 or 50 people on a webinar," he said.  Since then, with heavy Covid-19 programming, the chamber's webinar volume has skyrocketed.  "We're over 30,000 unique viewers," Sheehy said.
"We've kind of built a brand of fact-based information," he continued.  The chamber has cobranded with the Medical College of Wisconsin for much of this knowledge, aiming at answering questions such as, "How do I keep my employees safe?" or "What's the governor doing with his order?"
The chamber has always been there, Sheehy said, "the hub for all these spokes in the community."  It's easy to take the chamber for granted in good times.
When the chips are down, it's critical to have a strong chamber.  "When there's a crisis, you either have it or you don't," he said.
Grassroots Ramp-Up
As many chambers have done, once Covid-19 threw the business world upside down, the staff at Michigan West Coast Chamber (Holland, MI) began calling members individually – all 1,200 companies.  Membership Director Britt Delo happened to be talking with an eye doctor who was a chamber member.  The person had not been able to get any PPE.  The doctor would hold her breath while working close up to her patients.  "She was literally in tears," recounted Marketing and Communications Director Caroline Monahan, who learned about the problem.  What could the chamber do about this?
About this time, a member named Jeff Robinson, president of Hybrid Machining, came into the picture.  "It really started with Jeff reaching out to the chamber saying, 'I have this printer and I want to make things,'" Monahan said. The chamber introduced him to another member, Charles Elwood of a firm called Solismatica.  "The two of them really hatched this plan," Monahan said.
Pretty soon, the two were producing 3-D printer-made visors for face shields.  They used an open-source method that allowed them to enlist other volunteers to do printing as well.  As of April 29, this "printer farm" comprised 442 printers in various locations and had turned out, among other things, 47,093 units of PPE that were created by 3-D printers.  The production of the group is updated in real time on its web site.
The doctor doesn't have to hold her breath anymore.
Granularity and Member Connections
The Association of Washington Business (AWB) has curated information that its members and others can use in the struggle to supply Covid-19-related PPE.  One click from the Covid-19 page on its web site gets down to granular detail: a form from the Washington state government asking for things such as whether the potential supplier has "Gowns, disposable, medium; ISO rated preferred, surgical gowns, impermeable, polypropylene.  Quantity available ____________.  Orders closest to 50,000/week or more are given highest priority.  Price ___________.  Delivery time ______________."
Tommy Gantz, AWB's government affairs director, said AWB tries to get the best, most targeted procurement information out to its members and other firms so that they can move quickly to decide what sorts of PPE or other Covid-19-related items they wish to supply.  At the same time, she spends a fair amount of her time doing the kinds of one-to-one matchmaking work that we've seen elsewhere in this article.
Smaller chambers, too, are getting the word out to the public and are publicizing the successes of their Covid-19-related members.  The chamber in Oceanside, CA, with 660 members, freely publicizes its members that are providing services connected with coping with the virus.  These include Pacific Coast Distillery and Coomber Wines, both of which have retooled to make hand sanitizer, and Sew O'side, which is making masks.
"In terms of business promotion, we've limited that to our members," Ashton said.  "In terms of outreach, we're treating them [nonmembers] just as members."  Chamber staff reached out to members first during the crisis and then very quickly reached out to nonmembers.  "We built a lot of goodwill" with nonmembers, Ashton said.
A classic chamber activity, indeed, is to praise members for what they are doing for the public, crisis or not.  In a massive crisis such as the pandemic, that praise is extra-important.  The Denver Metro Chamber of Commerce has one of the better web pages doing just that.
– Chris Mead